Laurie Alice here,
Since I discovered traditional Regencies, I have counted Carola Dunn as one of my favorite authors in this genre. So imagine my thrill when I ended up on a Regency fan list with Ms. Dunn.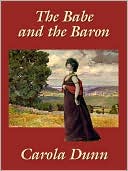 When I decided to review another traditional Regency as a Throw-back Thursday post, I contacted Ms. Dunn and asked her which one of her wonderful books she would like me to review. She suggested The Babe and The Baron which, to my delight, had slipped below my radar.
I say to my delight because finding a Carola Dunn book I hadn't read is like finding a forgotten box of chocolates in the cupboard. In addition, she told me an amusing story about this book.
Soon after she began to write it, her publisher, Walker Publishing, canceled their traditional Regency line. Two years passed before this book finally saw the light of day under the Kensington Zebra imprint. Poor Laura remained pregnant for two years. "She did not," MS. Dunn assured me, "give birth to an elephant."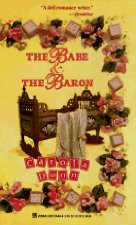 Laura's scapegrace husband dies while celebrating the fact that she is expecting their first child, leaving her penniless. Gareth, Lord Wyckham, a distant cousin of Laura's husband, learns that she is now penniless and offers her a home along with a host of other relatives living under his roof. Gareth is a wonderful hero—kind, responsible, enjoying a bit of fun, so not stodgy. He is also a wee bit overprotective of Laura and her condition.
Laura, however, has been used to being independent since her scandalous marriage to her late spouse, and chafes at the hovering, all the while she is falling in love with her relative by marriage. With tact and dignity, she slips into the household routine, taking children and elderly relations in hand and wanting to discover why Gareth is so overly protective of her, a near stranger.
As typical of one of Ms. Dunn's books, this traditional Regency is written with detail to character and interplay with the hero and heroine, as well as the cast of others important in their lives. Each individual has a unique role to play in the development of the characters, the romance, and the story itself.
If you haven't read this delightful tale yet, it is available in electronic formats, along with other Regency romances by Carola Dunn. She now writes wonderful mysteries also worth reading.