Vanessa here,
I am so excited to interview my friend and mentor, Laurie Alice Eakes and celebrate her new Regency, A Lady's Honor. Welcome Laurie Alice to my southern porch. I know you are steeped in writing the second book in this series, I'm just glad you could make it.
 LAE: I am working on the second book in the series, and can't say too much about it or I'll give too much away about the first book.
You do know how to leave a girl hanging.  Any way tell me about A Lady's Honor's Elizabeth Trelawny.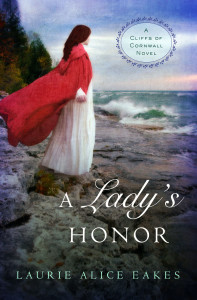 LAE: Elizabeth has issues with God's provision, or simply God in general. Rowan Curnow gave me trouble. He's is too self-reliant. Pride, I think, is the main problem both of them face, the roadblock between them and a relationship with the Lord.
As you set your heroine(s) on their journey, do their lessons model your own life experiences or something else?
LAE: I think all my books give away a little part of where I have been at one time or another in my life. In A Lady's Honor, my heroine deals with perfection. I have soooo been there.
Been there too. It takes so much: God, the love of friends and family, and a big pot of coffee to be comfortable in your own skin. What was the most difficult or interesting research fact that you discovered that you used in this book?
LAE: It's probably only interesting to a nerd like me and is tangled up in inheritance laws, entails, and marriage laws.
Given the strict societal norms of the Regency, how did you challenge or use it in this book?
LAE: Ah, that's part of the journey. My heroine engages in actions that would likely ruin her in society and probably get even her small freedoms greatly curtailed. All through the story, she struggles with this behavior until… Well, sometimes we have to make decisions that are in someone else's interest rather than ours. That's how I use the strictures over females' behavior during the time period.
What spiritual truth would have made the difference to your heroine's journeys, if they had realized it at the beginning.
LAE: If she knew them at the beginning, then her journey would probably not have been worth telling. Elizabeth–Elys in Cornish–thinks she has to be above reproach to be loved–and she keeps failing at the former.
I love food. I love passion.  I have a passion for food. How would you rate the passion of this novel on a scale of yummy goodness?
LAE: I probably would have said chocolate mousse, but red velvet will do nicely–rich, sweet, and heady. 
OooLaLa, Laurie Alice. Ok, now you have have to dish. Tell me about that first kiss.
LAE: I love that first kiss in reading or writing a book. It is a special moment, a turning point in the novel. Nothing is the same after that kiss. What I am thinking is what I believe the hero and/or heroine are thinking. If the scene demands chocolate or music, then, yes, I'll think about one of those. As a general rule, however, I rarely use props to write. It's all in my head and my heart. Or perhaps it's in the heads and hearts of the people kissing.
How would you describe your career? What do you define as successful?
LAE: Ha! The bar seems to keep moving. Once upon a time, I answered that question with: When I can sell the book without having to write it first. Now that I have done that many times over, I haven't figured out where the bar has gone. Perhaps when I'm more than an Amazon bestseller?
Please, pretty please. Tell us about the series.
LAE: The series is The Cliffs of Cornwall. The second book will come out early next year and features the blacksheep cousin introduced in A Lady's Honor. The third book will follow and focuses on the return of the heroine's exiled older brother. All three books probably can be called historical romantic suspense. I can't seem to write without a dead body or two popping up somewhere, or else the hero and/or heroine getting into danger.
If there is one take away you want the reader to know after finishing this book, what would it be?
LAE: You will only find unconditional love through in our Lord and Savior. Seeking it elsewhere will lead to heartache and disappointment.
Thank you so much for spending time, answering all my questions. Next time we meet up at conference, I buying the red velvet cupcakes. Can I find some with a dollop of chocolate mousse insides?
To kick things off, Laurie Alice is hosting a special contest. It starts today and runs through midnight on Sunday, May 4.  To enter the giveaway, answer the question at the end of the blog post. A new question will be given with each post, so a person can enter up to four times. At the end of the contest, there will be two winners chosen, and the prizes are from Cornwall, England, where A Lady's Honor is set. The winners will receive:
1.  Either a Celtic knot necklace:

2.  Or a hand blown Cornish ring dish.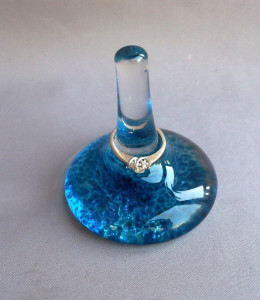 3.  Both winners will also receive a $15.00 gift card to either Barnes and Noble or Amazon.
Now here's a little more about the book:
A tarnished reputation. A distant home. A forced engagement to a dangerous man. When Elizabeth Trelawny flees London, she has more than one reason to run. And when her carriage, pursued by her would-be fiancé, is caught in a storm, she quickly accepts the help of a dark stranger. Anything to get back to Cornwall.
Rowan Curnow is not exactly a stranger. Not quite a gentleman either, class disparity once kept him from courting Elizabeth . . . even if it didn't keep him from kissing her.
The couple elude their pursuers and reach Bastian Point, Elizabeth's future inheritance and the one place she calls home. But in the very act of spiriting her to safety, Rowan has jeopardized Elizabeth's inheritance—if her Grandfather ever learns she spent the night, however innocently, in the company of a man.
When smugglers unite the pair in a reckless, flirtatious alliance—an alliance that challenges the social norms that Elizabeth has been raised to revere and rattles Rowan's fledgling faith in God—Elizabeth must choose between the obedience of a child and the desires of a woman: whether to cling to the safety of her family home or follow the man she loves.
A Lady's Honor received 4 1/2 stars from The Romantic Times, which said, "Beautiful 19th century Cornwall offers a contemplative setting for this dramatic romance that involves murder, suspense and a surprise villain.  Elizabeth and Rowan are both on a journey to discover that they are worthy of love."
And Publisher's Weekly stated,  "Eakes delivers beautifully written romantic suspense set in Cornwall during the Regency era."
Today's quiz question:  A Lady's Honor is about a couple who are of different classes. The hero's not quite a gentleman. If you've been romanced by a bad boy, someone from the wrong part of town, what was the most surprising thing you learned about yourself?
Be sure to come back Monday for a post about the history surrounding A Lady's Honor and another chance to win.