Vanessa here,
Happy New Year everyone.
We here at Regency Reflections wishes each of you a safe and happy 2014.  I'm very proud of my colleagues. We've got some exciting Regency books releasing this year. New projects to crow about, but I thought today, I'd let you in on a secret, but don't tell anyone.
Some of our authors are multi-talented.
Naomi Rawlings has her second book coming out,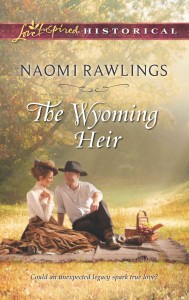 The Wyoming Heir. Since its by Naomi, their must be memorable kisses: The Wyoming Heir:
Given a choice, Luke Hayes wouldn't ever leave his Wyoming ranch. Yet when his estranged grandfather dies, leaving him everything, he'll travel to Valley Falls, New York—but only to collect his sister and his inheritance. He won't be roped into saving a floundering girls' school, no matter what mathematics teacher Elizabeth Wells says.
Elizabeth has defied social convention and her own family for the sake of her beloved Hayes Academy. Luke is pure rancher, from the tip of his Stetson to the scuff on his boots, yet he's also becoming her unlikely ally. Only he can help save her job and school…but how much will she lose when the time comes for him to leave?
For more information about Naomi and her novels, visit her website at www.NaomiRawlings.com.
Now, its not a Regency, so don't tell anyone you learned about it from me.
Laurie Alice Eakes, has her twenty-first, or hundredth book coming out. She writes so many I've lost track.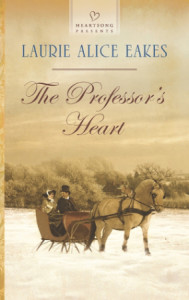 The Professor's Heart:
Mia Roper has what she always wanted
Her independence, her career and her home back East. But when a train wreck strands her in Hillsdale, Michigan, the town she once called home, Mia begins to wonder if she made the right choice to leave Hillsdale—and her true love—behind.
Rescuing injured passengers, Professor Ayden Goswell can't believe his eyes. Could that really be Mia, the woman who once owned his heart, emerging from the wreckage? Long ago, Mia and Ayden chose their careers over love. But God, it seems, may have other plans for them….
A wreck, a reluctant heroine, what's not to love, but since it's not a Regency don't tell anyone you heard it from me.It's available at Amazon, Barnes and Noble or CBD.
Ok, I got those secrets off my chest. I feel better, probably won't need a mustard plaster. There probably will be more books, non-Regencies that my wonderful friends here will be releasing this year: Kristy, Camy, Ruth, etc. That I won't be telling anyone about :), but I am so proud of the gaggle of authors here, I just couldn't help spilling the beans.
PS. Tweeting this is not the same as verbally telling.