The Scandalous Consort
by Laurie Alice Eakes
"Poor woman, I shall support her as long as I can, because she is a Woman and because I hate her Husband." This is what Jane Austen wrote of Caroline of Brunswick, official wife of the Prince Regent.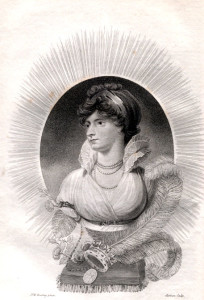 Besides making this shockingly feminist statement for the time, Miss Austen spoke support of a woman who was hated by her husband and popular amongst the common folk. She caused contention everywhere she went, dividing families, politicians, and society itself.
The prince married Caroline in 1795 because he was in debt and Parliament agreed to give him more money if he did so. Caroline of Brunswick was imminently suitable on paper. An alliance on the continent was important. Caroline was of high birth.
She was also outspoken and unhygienic. She spoke her mind without tact, and she didn't change her clothes enough. Nor did she bathe often enough. She and the prince were disgusted with one another, as she considered him fat and not as handsome as his portrait. Caroline claims that George spent their wedding night under the grate, where he had fallen down drunk.
Despite their distaste for one another, they did produce a daughter, Charlotte, who became a pawn in the battle between her parents. Caroline was forbidden access to her daughter except for arranged visits, weekly at first and then less frequently. The prince used Charlotte in an attempt to keep Caroline under control.
Caroline, however, was rarely in control. She gave elaborate parties and adopted children, giving rise to rumors that at least one of them was her own illegitimate offspring. As early as 1806 set up enquiries as to whether or not Caroline had committed adultery, a crime.
Until her death in 1821, the social battles continued. When heads of state visited England in 1814, the queen would not allow Caroline to visit the drawing room to meet them. She showed up at the theater they were attending with her husband.
Shortly afterward, however, she left England for Italy, where her behavior became even more scandalous. She hired an Italian man who, by all reports, was more than a servant, sharing her dinner table the least of their improper contact.
So when the Regent acceded to the throne in 1820, he wanted rid of Caroline; he did not want her to be his queen. She stood trial for adultery and was removed from her position. George IV was crowned without her presence. Indeed, when she tried to attend the coronation, she was blocked at every entrance to Westminster Abbey.
In reading several accounts of Caroline and the years of her marriage to the Prince of Wales, I could not find much sympathy for her in my heart. Although Prinny did not treat her well, most of her woes she brought upon herself.
She died in 1821, possibly of a bowel obstruction, possibly of cancer, or possibly from poisoning, an ignominious death for an ignoble life of a woman who could have been a queen.
Laurie Alice Eakes is the author of four novels set during the Regency, as well as a dozen other books. You can find more about her and her books by following her on Twitter @LaurieAEakes or on her web site http://www.lauriealiceeakes.com.