In Regency England holidays weren't special annual occasions – they were vacations. People went on holiday or holidayed by the sea.
We asked our Reflections authors what some of their favorite holidays were and where they are most wanting to go.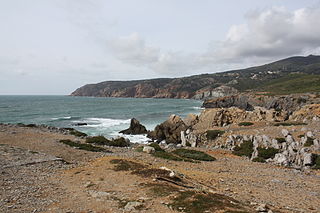 Laurie Alice Eakes
Nine days in Portugal. It's such a beautiful country, and the people are warm and friendly. I stayed in a little fishing village 35 kilometers south of Lisbon where I ate fish caught just that morning, and soaked up a great deal of sunshine when home was getting an ice storm. I also too forays to historic landmarks like a fountain that has been drawing water from a mountain stream for nearly a thousand years.
Where would I like to go? Lots of places still on my "to visit" list. And I'd like to get back to a few others. You know, I'd rather like to go to the site of the Battle of Waterloo for the 200th anniversary.
Susan Karsten
My favorite adult vacation was to Hawaii. My favorite childhood vacation was to Breezy Point resort in the region of Brainerd, MN. My current dream vacation would be to get back to Hawaii. It's such a world apart.
Kristi Ann Hunter
I had the opportunity to spend nearly two weeks in Europe touring the Alps and Italy. The mountains are something I will never forget. Standing on top of some of those viewpoints you can see nature for miles, with no manmade obstructions or anything. Just mountains and snow and sky. It's beautiful. Things there are so much older than they are in America. In the States something that is 200 years old is an amazing relic. There, it's practically new. Okay not really, but it feels like it when you look buildings that are nearly a thousand years old.

I would really like to get back to England for a research trip. Tour more of the old homes and museums, take pictures of the countryside. I would also really like to see Australia someday. Closer to home, I eventually want to visit all fifty states. I'm about half way there now.
Vanessa Riley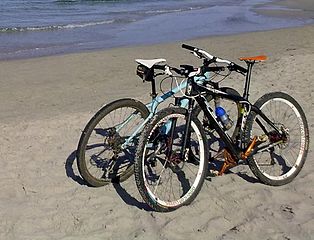 I rented a condo for a week with all my brothers and their families on an island off Savannah. It was a blast. Bike riding, cooking fresh seafood, watching movies until late. No takers on P&P though.
Kristy L. Cambron
My favorite vacation has been to the quiet beaches of the Outer Banks, North Carolina. My sister and I had a weekend getaway a few years ago and I've never forgotten it. Ocracoke Island's thriving artists' colony and lazy bike rides we took to the beach I will always remember. Maybe it was the special company I loved the most? 🙂
As for where I want to go? Paris. It's always been Paris – c'est bon!
Naomi Rawlings
My favorite vacation was to Finland before my junior year of high school. We have some family friends over there, and it's a really beautiful country. Did you know they have church buildings that are 400 years older than the United States? We saw one built in the 1300s. I've never seen a more beautiful church in my life.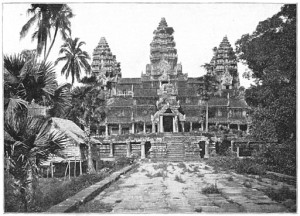 As for a favorite place I would like to go, I'm a little weird so I'd go for something in Central or South America that would allow me to see some ancient Indian ruins. I've wanted to visit Angkor Wat since I was in high school. But actually those ruins have been restored and turned into a bit of a tourist destination. So I'd rather go to some less visited area and see ruins with grass and trees and the like growing out of it.
What about you? What was your favorite holiday? Where would you like to see? Have you been to any of our favorite places? We'd love to hear about it in the comments below.
All pictures courtesy of Wikimedia Commons.