This silhouette of Jane Austen is attributed to a silhouette-maker, Mrs. Collins, who worked in Bath around 1800.
It's hard to imagine not having photography to capture the moments of our everyday lives. Weddings, important events, vacations – these are all moments that we capture digitally or on film to enjoy for years to come.
Even though photography had not yet been invented, it was common practice during the Regency to have a likeness or portrait made of a loved one.  But oil paintings were expensive and took many sittings to complete.  Even watercolor paintings and high quality sketches took skill, time, and money.  For those who did not have the extra funds to spend on such luxuries, a silhouette was a viable alternative to capture a person's likeness.
In simplest terms, a silhouette is the art of casting a shadow of one's profile onto a sheet of paper and either cutting out or blackening the image.  Originally, this art form was known as creating a profile miniature or shade. The term "silhouette" is credited to the Frenchman Eteinne de Silhouette (1709-1797).   Silhouette, a finance minister to Louis XV, did not invent the art form, but his skill for cutting profiles earned him notoriety.  Additionally, his frugal tendencies made the term "silhouette" synonymous with this inexpensive hobby.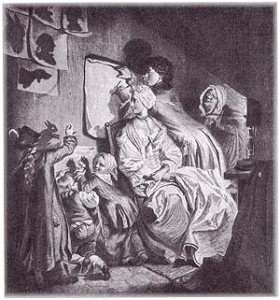 Many people are most familiar with silhouettes that have been cut from black paper, but there were actually several different techniques one could use to create a silhouette.  The most popular technique was to place a candle near a person's profile and cast a shadow on paper. Then the shadow was traced and then either cut out with sharp, tiny scissors or and darkened with charcoal or lampblack.  Yet another technique was the "hollow cut silhouette", in which the profiled image was cut from the paper and black material (silk, paper, etc.) was placed behind the empty space to reveal the image. Another more detailed technique was the painted silhouette, in which the artist would either trace or create the profile with oil paint or watercolours.
Because it was an inexpensive, easy, and relatively quick process, creating silhouettes became a popular party activity.   In fact, George III was fond of making silhouettes and threw elaborate "shade" parties.  Most cities – especially larger resort towns – had silhouette artists for hire.  One of the most-well known silhouette artists during the Regency was John Miers (1756-1821).  The majority of his career took place in London where, in his early years, he charged a guinea per silhouette. He was noted for his incredible speed and his infamous "three-minute sittings." He, along with other professional silhouette artists, expanded the art form and created silhouettes on plaster, ivory, wax and glass. The most desirable silhouettes were drawn by hand (not traced) and often found their way onto jewelry and other valuable items.
If you would like to read more on this topic, be sure to check out this article by Linore Burkhard, a Regency Reflections blog contributor:  Rise of the Silhouette