I'm excited to introduce a new Regency novel today. It's entitled A Flight of Fancy and written by Regency Reflection's own Laurie Alice Eakes.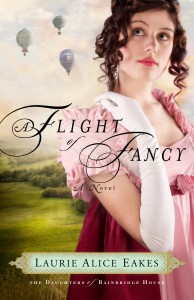 To celebrate A Flight of Fancy, we're running a special week-long contest. Starting today through next Friday, October 12, we'll feature Regency quiz questions at the end of each post. To enter the contest, you'll need to correctly answer the questions in the comment section below. For every correct answer, your name will be added into the drawing for a Regency Food and Frolic gift basket. There will be five questions in all, which means your name can be entered up to five times (if you get all five questions right). The deadline to answer ALL CONTEST QUESTIONS will be Saturday, October 13 at midnight.
The gift basket will include: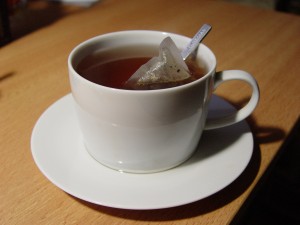 A small Starbucks mug
A box of Earl Grey tea
A package of Pepperidge Farm Cookies (biscuits)
A $10.00 Amazon gift card
Before we get to today's quiz question, let me tell you about the story, and why I'm enjoying reading it so much.
Cassandra Bainbridge may be a bit of a bluestocking, but when Geoffrey Giles is near, love seems a fine alternative to passion for Greek and the physics of flight. With his dashing good looks and undying devotion to her, the earl of Whittaker sets Cassandra's heart racing with his very presence. It seems his only flaw is his distaste for ballooning, the obsession that consumes so much of her thoughts.
When a terrible accident compels her to end her betrothal, Cassandra heads for the country to recover from both her injuries and her broken heart. With time on her hands and good friends to help her, she pursues her love for ballooning and envisions a future for herself as a daring aeronaut. But when Lord Whittaker slips back into her life, will she have to choose between him and her dream?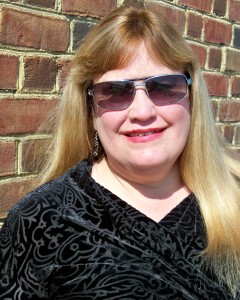 A Flight of Fancy has generated critical acclaim from places such as the Romantic Times, which said: " Eakes has a charming way of making her novels come to life without being over the top. The second Daughters of Bainbridge House story has romance, mystery, suspense and characters who transcend the stereotype of stiff English formality."
One of the things I personally love about this story is how Whittaker finds himself torn between love and duty. He struggles with handling both things at once, and that same struggle reaches out and touches every person on the planet at one time or another. And of course, the suspense element is riveting, keeping the reader constantly guessing at what will happen next, who's toying with Whittaker and Cassandra, and why.
I genuinely hope others enjoy this book as much as I do.
Today's question: A Flight of Fancy is set in 1812. During what years did the Regency take place?
A: 1790-1820
B: 1800-1830
C: 1811-1830
D: 1811-1820
Remember to leave your answer in the comment section below. And come back Monday for Laurie Alice Eakes's post on ballooning during the Regency, plus two more quiz questions.
This contest is now closed. Please see the final post for answers to the trivia questions.