To write an historical romance, it sometimes is necessary to feed your characters (can't let them starve now, can we?), which means researching food from the time period is just as important as other aspects of research.
While researching for my regency Christmas ebook, I discovered that transposing period recipes from Georgian or Regency cookbooks is a challenge.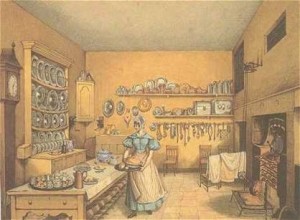 For one thing, cooks of the day didn't usually measure their ingredients in the traditional sense. Recipes called for "a large haunch of venison," or, "one fowl, good for a supper." Then, ingredients might be listed as, "one good spoon of mace," or "a quick handful of oats," and so on.
Also, they had no thermostats for their ovens which were often merely described as "a hot fire," or "a moderate oven." As adventurous as I am at times in my kitchen, I hesitate to spend time trying something that might not work. I like the tried and true when it comes to recipes. (When things go wrong–as as they occasionally do in my cooking, at least I know I'm the one to blame!)
Thankfully, there are cookbooks out there today with modernized recipes from the past. I still enjoy looking through the older ones with their "hot fires" and "handfuls" of flour, however. They did things, despite the lack of modern conveniences, on a surprisingly grander scale. They arranged dinners in courses (if the family could afford to) and used meats that we would consider exotic today.
A typical meal would easily find four or five sources of protein on the menu, served in courses, sometimes with multiple meats in one course. Rabbit, venison, pheasant, grouse, and even partridge were not unusual entrees. Duck, goose, quail and wild turkey were also game (couldn't resist). Dishes were arranged on the table according to how important they were. "Middles" were the main dishes, while "sides" were, well, you know. We still call them sides.
I usually make two, sometimes three sides for my family. During the regency, the well-to-do dinner table would have a few with each course! No wonder they needed to employ a kitchen staff.
I confess I've had grand plans to join the ranks of the kitchen experimenters who try and cook up the old-fashioned recipes. "Plans" is the operative word. I can enjoy a good day in the kitchen, really, especially for baking, but with a family to feed, I have little time to spend just "experimenting." In the spirit of modern-day ease, therefore, I offer here a recipe for "fowl" anyone can do. You can squirrel it away (hmmm, I wonder if they ate squirrel back then, too?) for your next lavish holiday table. It has the atmosphere of olde England about it, as it's traditional for Christmas, but works for today's ovens–and measuring spoons!
Wild Goose Chase 
1 cup dried apricots, halved
2 cups dried prunes, halved
1/2 cup Madeira wine
1 Goose (12 pounds)
Juice of 1 orange
2 tart apples, such as Granny Smith
Grated zest of 1 orange
salt and pepper to taste
dash paprika
8 slices bacon
1 1/4 cups Wild Goose Sauce (recipe below)
Place apricots and prunes in a mixing bowl. Add Madeira. Mix and set aside. Preheat oven to 325 F. Rinse goose and pat dry. Prick all over with a fork. Rub inside and out with the orange juice.  Add apples and orange zest to apricots and prunes. Sprinkle goose inside and out with salt, pepper and paprika. Stuff cavity with fruit. Skewer opening closed. Lay bacon slices across breast. Place goose, breast side up, in a shallow roasting pan. Roast for 1 1/2 hours, removing accumulated fat every 30 minutes (there will be a lot). Remove bacon and roast for 1 hour more, removing fat after 30 minutes. Remove from oven. Let stand 20 minutes before carving.
Wild Goose Sauce
2 green onions, chopped
3/4 cup chicken stock
1/2 cup Madeira wine
1 tablespoon peppercorns, slightly crushed
1 teaspoon cornstarch
salt and fresh ground pepper to taste
Scrape brown pan drippings from roast into saucepan. Add green onions, 1/2 cup of the chicken stock (saving 1/4 cup), Madeira and peppercorns. Simmer 5 minutes. Mix cornstarch with remaining 1/4 cup stock until smooth. Slowly drizzle into sauce, stirring rapidly. Add salt and pepper. Stir, simmer 5 minutes. Serve over goose.
Enjoy!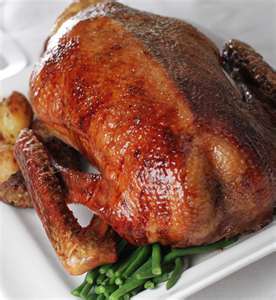 Have you ever made goose for your family? How did it turn out? I tried it once and there really is a TON of fat that must be removed during cooking. We enjoyed the roast, however. What about you? If not goose, did you try some other meat or other old-fashioned recipe that is unusual? Tell us about it; we'd love to know about your experience!
Linore.  Recipe from Regency House Christmas: The Definitive Guide to a Remarkably Regency Yuletide by Linore Rose Burkard
Check out my Kindle short, Coach and Four: Allisandra's Tale!